Hurston and Paterson: Two Individualists Against the Atomic Bomb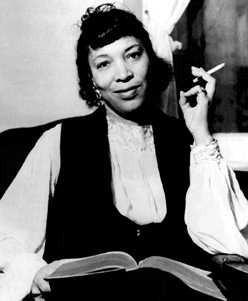 Novelists Zora Neale Hurston and Isabel Paterson had much in common including opposition to the New Deal and a shared belief individualism. Both also opposed the dropping of the atomic bomb.
In 1946, Hurston, who later supported the presidential campaign of Robert A. Taft, wrote that she was
"amazed at the complacency of Negro press and public
" towards Truman's foreign policy actions.
According to Hurston, Truman
"is a monster. I can think of him as nothing else but the BUTCHER of ASIA. Of his grin of triumph on giving the order to drop the Atom bombs on Japan. Of his maintaining troops in China who are shooting the starving Chinese for stealing a handful of food....Is it that we are so devoted to a 'good Massa' that we feel that we ought not to even protest such crimes? Have we no men among us? If we cannot stop it, we can at least let it be known that we are not deceived. We can make any party who condones it, let alone orders it, tremble for election time."
Carla Kaplan, ed., Zora Neale Hurston: A Life in Letters (New York: Doubleday, 2002), 546.

At about the same time, Paterson cited the atomic bomb as an example of Truman's use of science "to fry Japanese babies in atomic radiation." Their deaths did not even have practical value to Paterson, who had predicted an almost immediate surrender of the Japanese upon the landing of a U.S. invasion force. The only bright spot for her was that Truman compromised his demand of unconditional surrender by letting the Japanese to keep the emperor.
Stephen Cox, The Woman and the Dynamo: Isabel Paterson and the Idea of America (New Brunswick, N.J.: Transaction Publishers, 2004).
Labels: Atomic Bomb, Truman